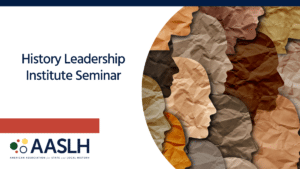 By Max van Balgooy, Director of the History Leadership Institute
The History Leadership Institute, the American Association for State and Local History's (AASLH) professional development program for mid-career history professionals, is introducing its long-running Seminar in a new format in June.
In 1959, the Seminar began as an effort to train newly graduated history students and directors of history museums in the unique skills of managing museums, historic sites, and archives in a six-week program held at Colonial Williamsburg. During the decades that followed, the Seminar has continually changed to meet the evolving needs of the field and explore new and emerging practices.
In 2019, the Seminar expanded from a three-week residential program to a four-week hybrid with two weeks online and two weeks in-person to provide greater flexibility and access. Unfortunately, the pandemic delayed implementation until this year, but it will be worth the wait.
The 2022 Seminar will feature 37 sessions and 24 facilitators leading sessions on:
Intentional practice with Randi Korn
Aligning mission and budgets with Becky Beaulieu
Rethinking strategic alliances with Erin Carlson Mast
Facilitating participatory decision making with Sarah Pharaon
Transforming how the public experiences history with David Young
Leading from the middle with Julie Johnson
New this year are sessions on:
Growing ethical relationships with Lauren Peightel and John Bickers
Engaging communities through history with George McDaniel and Ken Turino
Supercharging your museum's civic identity with Sarah Jencks
Measuring success with John Wetenhall
We'll also explore the latest AASLH projects, including Reframing History and Making History at 250 with AASLH President & CEO John Dichtl. Reframing History offers strategies to more effectively communicate the importance of inclusive history. Making History at 250 offers resources for history organizations to plan for the upcoming 250th anniversary of the United States in 2026.
We've also reshaped the sessions. A few are longer double sessions to explore topics in greater depth while others are half-sessions on intriguing ideas, such as resilience strategies with Anne Ackerson and building more diverse collections with Nicole Martinez-LeGrand.
Field trips to the collections at the Indiana Historical Society and Indiana State Museum, along with a day at Conner Prairie, provide provocative case studies for our discussions.
Our thanks to the AASLH partners and History Leadership Institute alumni who make this Seminar possible for the 18 participants that make up this year's cohort.
If you are interested in participating in 2023, look for announcements to apply this fall. More information about the History Leadership Institute can be found here.