The recently completed US National Archives' (NARA) Remembering WWI tablet app invites teachers and institutions to engage with NARA's extensive collection of WWI films and photographs (read a previous post on the AASLH blog about the initial launch).
NARA has collaborated with content partners at the Library of Congress, the Smithsonian National Museum of American History, and the National WWI Museum and Memorial, all of whom have contributed additional original primary source materials. Now, we invite your local institution to contribute content to Remembering WWI.
Why do this?
Remembering WWI is a national collaborative effort, aimed at helping teachers and local institutions easily explore a rich collection of WWI film and photo primary sources from the US National Archives (NARA) and aforementioned national partners. Collection-creation is at the heart of the app experience, where, in addition to exploring, teachers and institutions can reuse this content to create their own WWI narratives. By contributing your own content, you can help contextualize the experience of WWI at the local level and grow this national collection of WWI primary sources. Institutions who contribute their own materials will also be able to reuse NARA and other institutional content to enhance the narratives within their own in-app collections, for use locally in their own centenary programming or museum tours.
What kinds of material can I contribute?
We currently have WWI-related photographs, films, and objects (photos of uniforms, equipment, etc) in the app. If you also have scanned materials such as letters, documents, etc., you are also welcome to contribute these as well.
Where do I upload?
If you are interested in adding content to the app, you will need to upload through Historypin. You cannot upload through the app itself. Any material appearing in the Historypin Remembering WWI collection will appear in the app.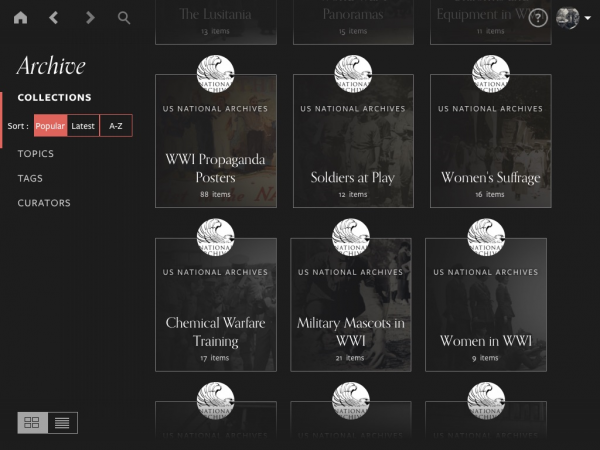 How do I upload material?
1. Are you uploading large amounts of content? If yes, you'll want to use Historypin's bulk uploader where you can easily gather your photo or film data on a CSV. Contact Kerri at kerri.young@historypin.org for more information on this. If no, start at Step 2.
2. Create a free Historypin account. Go to Historypin.org to sign up, and create a profile on behalf of your institution.
3. All content must go into a themed collection. We're surfacing all featured content in the app as curated collections, to make content easily discoverable. Before doing any uploading, first create a collection by going to the Historypin Remembering WWI collection and clicking "Add a Collection." Once you've added some details about what will go into it, then click "Add a pin" from within the collection to start uploading. Note that those who choose the bulk uploader will go through a different process.
4. View your content in the app or on Historypin. As you add "pins" to your collection, they will automatically appear in the app. You can view your collection in the app by downloading it for tablets here. Alternatively, your collection on Historypin is there for sharing as well!
If you would like help with this process, feel free to email Historypin Engagement Manager Kerri Young at kerri.young@historypin.org. For a great example of a local WWI collection on Historypin, check out Connecticut Remembers WWI, created by the Connecticut State Library as part of statewide WWI centenary efforts. For more information on individual app features, check out NARA's History Hub page for the app. Even if you don't have the capacity to contribute, you can still reuse the app and its content in your local area. It's a free resource that we are excited to share, and if you know someone who might be interested in using it please pass on any information. Click here to download a promotional brochure for the app to use in your programming.
Want to write for AASLH? Learn more and submit a blog post here.