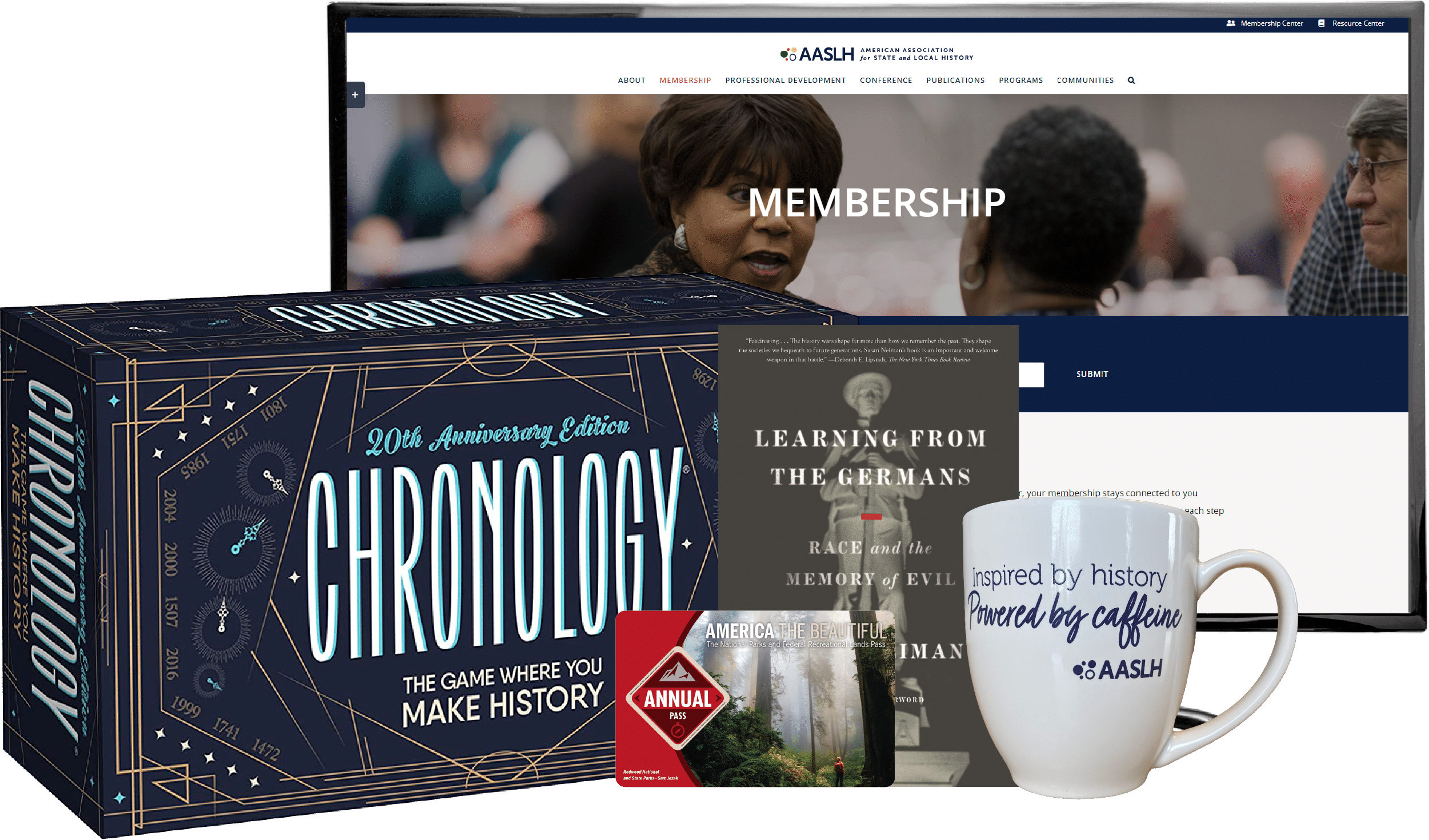 By Albert Samuels, Senior Manager, Marketing and Sales 
There's still time to get your beloved historian a gift they will adore, and the American Association for State and Local History is happy to help share a few recommendations. From staff favorites to fun, family-friendly games, these items are sure to stay out of the regifting pile.
This might be a last-minute gift guide, but do not wait much longer.
Chronology: This history-themed card game is ideal for friends and family ages 14 years and older. Build your own timeline using 858 events. When was the bikini introduced? Before or after the Gettysburg Address? Before or after the moon landing? The first person to assemble a timeline of ten cards wins—and now you're playing Chronology. There are still some in stock at Amazon.
AASLH Mug: Coffee or tea? We don't care. What is important is that this mug is almost a half cup larger than most. So, no matter what fills this mug, it will soon become a favorite. Get your caffeine-loving historian one at http://aaslh.org/mug.
Learning from the Germans by Susan Neiman: Author Susan Neiman delivers an urgently needed perspective on how a country can come to terms with its historical wrongdoings. Neiman is a white woman who came of age in the civil rights–era South and a Jewish woman who has spent much of her adult life in Berlin. Working from this unique perspective, she combines philosophical reflection, personal stories, and interviews with both Americans and Germans who are grappling with the evils of their own national histories. Purchase your copy of Learning from the Germans at https://us.macmillan.com.
Professional Development Webinars: AASLH webinars are like the gift that keeps on giving. From discussing how to prepare for America's Semiquincentennial to learning how best to create digital content for museums and historic sites, we've got you covered. There are more than 120 different prerecorded webinars to choose from. Visit https://learn.aaslh.org/recorded-webinars to learn more.
National Parks & Federal Recreational Lands Annual Pass: Get your loved one the gift of fresh air and beautiful scenery with the America the Beautiful Annual Pass. Give access to more than 2,000 recreation areas including national parks, monuments, lakes, and wildlife refuges. Purchase a pass at https://store.usgs.gov/pass.
AASLH Individual Membership: An individual membership to AASLH grants your historian access to a vibrant community of people just like them, as well as professional development resources and support to help them throughout their career. By joining AASLH, they are part of a larger effort to advance the field of public history. Purchase an individual membership at http://aaslh.org/membership/individual-membership.