Note:  This post by Rosemary Campbell is an epilogue to a previous article in the "I Remember When…" series by Ron Kley, "Betty's Shoebox – or How I Came to Nomenclature".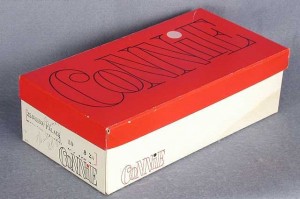 Soon after I started my career with Parks Canada in the late seventies, I had the honour and privilege to get to know Betty West, then Registrar of our Atlantic Office of the National Historic Sites of Canada. I was working in the central cataloguing office in Ottawa (Ontario) and responsible for classifying and standardising the national collection of historic and reproductions objects of close to 5000,000 items.  The Registrars across the Parks Canada program had agreed to adopt Chenhall's Nomenclature and, Betty West organized the regional component of the collection – no longer in shoeboxes- but in metal file drawers with copies of all the (typed) master catalogue cards, filed by Nomenclature categories, classifications and terms (yes: photo copier machines came into existence to facilitate our museum lives). I spent countless hours with Betty West, mostly by telephone, to settle on the preferred object terms- which Betty hand corrected with pen in hand as required on the cards- for the rich and diversified collection depicting maritime history. This process was repeated with other registrars across Parks Canada. Each new object term and related terms were recorded in the growing national lexicon which now contains over seven thousand new entries collected over the years. The challenge was to find French equivalencies for the object terms. The resulting work led us to a project 'Beyond Nomenclature' and the bilingual Visual and Descriptive Dictionary of Objects.  Betty West was also always supportive and was thrilled to learn that I participated as a (Northern) team member on the Revised Nomenclature Committee back in the eighties.
As Parks Canada approached the computerization of its collections, it became crucial for me to get all the national collection classified. The systemization of the collection was spearheaded by Patricia Young, who subsequently became Head, Documentation Standards and Content Development with CHIN (Canadian Heritage Information Network). Patricia Young gave me a two-year time line to complete this standardization of the national collection, which would ensure that the Nomenclature fields (bilingual) would be entrenched into our new collections management system. By this time, Betty West had decided to leave computers to us 'younger folks', bid us all farewell and retired to a serene live in Bedford Bay on her beloved Atlantic Coast. We always kept in touch, as we had become friends and she remained keenly interested in all the Nomenclature projects.
My last meeting with Betty West was at her new seniors' retirement residence and sadly her memory was fading. Betty West passed away last year at the age of ninety. She has left us a great legacy with her shoebox.