AASLH 2023 Annual Conference | Registration Available in Boise
We Are Excited to Invite Everyone to Boise for the 2023 AASLH Annual Conference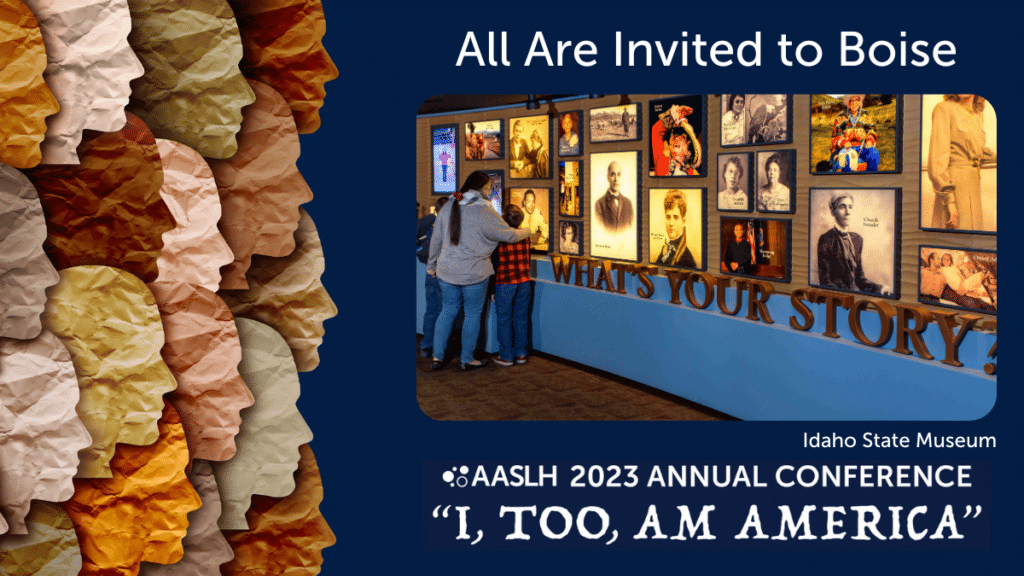 Our 2023 AASLH Annual Conference in Boise, Idaho on September 6-9, focuses on the theme, "I, Too, Am America." We are eager to share with you the critical discussions that will happen around that theme, the numerous learning opportunities, the chance to be side-by-side with history colleagues from all over the country, and the time to explore Boise.
Our conference theme is particularly resonant today both because it raises questions that have been debated throughout the American past—who counts, who belongs?—and because it marks a fault line in current politics. Numerous states are taking legislative actions that restrict the teaching of history of racism, gender, sexuality, and ethnicity, and some states are taking additional steps targeting the BIPOC and LGBTQ+ communities. Taken together, these measures marginalize or exclude the lives and history of specific groups and minimize the history of how people have fought for their rights to life, liberty, and the pursuit of happiness. These legislative restrictions do not align with AASLH's values, and they run counter to the expanding compass of historical scholarship and public history practice over several decades.
Holding a major national conference is an opportunity to promote our field's honest approach to history and its understanding that the American past belongs to all of us. AASLH's vision, especially as we approach the nation's 250th anniversary in a few years, is to share with people of all backgrounds and beliefs the entire sweep of our common history as we continue to make progress towards "a more perfect union."
We are excited to be meeting in Idaho because of its diverse history and because it has been several years since the AASLH conference took place in the West. Historical organizations and practitioners are in every corner of the country, and it is our mission to serve them and include them in opportunities, to exchange ideas, make connections, participate in professional development, and open field-wide conversations about critical issues. Idaho is home to five federally recognized tribes as well as vibrant immigrant communities.
As we have always done, we will be working to ensure that the conference is a welcoming, respectful, and safe event for all who attend. It will be a busy week in downtown Boise, with a lively AASLH conference program happening in the midst of the Boise Pride Festival and Boise State University's first home football game. AASLH will be expanding its conference safety and responsibility policy and seeking ways to make it easier for all to navigate their way through a fulfilling and meaningful conference experience.
We invite you to Boise to reenergize as a public historian and add your voice to the cry "I, too, am America."
2023 Conference Theme: "I, Too, Am America"
I, too, am America.
— Langston Hughes, "I, Too" from The Weary Blues, 1926
The preamble to the United States Constitution, begins with the phrase "We, the People…" This phrase has become synonymous with the definition of an American identity. Despite its inclusive appearance "We, the People" was employed as an exclusionary tactic. The phrase indicated an incorporation into a larger American identity while, for generations, ignoring significant groups of people who contributed to, sustained, and influenced American society. Today, "We, the People" has evolved into an inclusive statement of the history and experiences of people within in the United States.
The 2023 conference theme "I, too, am America" is inspired by Harlem Renaissance poet Langston Hughes's 1926 poem "I, Too" where he stakes his claim on the evolving promise of an inclusive nation by stating "I, too, am America."  His demand tests the promise of the preamble. His poem demonstrates that, despite the country's segregated society and exclusion of Blacks from the American identity, as a Black man, Hughes was also an American. The 2023 AASLH Annual Conference theme draws on the broadening concept of American identity that is found in Making History At 250: The Field Guide for the Semiquincentennial.
"I, Too, Am America," evokes an inclusive definition of America which expands beyond citizenship documentation to everyone who lives, works, and contributes to American society regardless of legal status. "I, Too, Am America" applies to all people: Black, White, Asian, Latinx, Indigenous, LGBTQ+,  men, women, nonbinary individuals, adults, teens, children, the elderly, immigrants, undocumented individuals, poor and low income, non-native English speakers, multi-lingual people, high school graduates, college students, K – 12 students, the formerly incarcerated, the incarcerated, East coast, West coast, South, Southwest, Midwest and all variations in between. "I, Too, Am America," is a bold statement looking at the past, present, and future states of being an American, how we interpret American history, and our evolving audience.
In the countdown to country's 250th anniversary, we are forced to wrestle with our collective identity. Our 2023 conference is a call for an engaging examination of identity through creativity, innovation, and compelling discussion. Questions we should consider are:
What does "I, Too, Am America" mean to you?
How does this challenging sociocultural moment inspire innovation?
How are institutions navigating this sociocultural moment?
How does the changing physical and cultural landscape impact our institutions and work as public historians?
How do we incorporate and highlight underrepresented and unknown stories?
How do we reconsider longstanding narratives?
What are our audiences' needs, and how has that impacted our ongoing community engagement?
What is technology's role in our ongoing work? How does it facilitate education, inclusion, and engagement?
How, when, and why have definitions of "the people" and ideas about belonging changed in the United States, in your state, or in your community?
Boise, Idaho will serve as the location for this discussion. The city has seen significant growth and change in the last decade. In 2019, Boise was the second-fastest growing metro area in the nation. The city's longstanding commitment as an inviting place to all has resulted it welcoming over 800 new citizens each year from over 20 foreign countries. Idaho is home to five federally recognized tribes—the Kootenai, Coeur d'Alene, Nez Perce, Shoshone Paiute, and Shoshone Bannock—whose history and culture can be seen throughout the state. The state's distinct and rugged landscape and the city of Boise's incorporation of urban and outdoor landscape urge us to consider the influence of changing landscapes on our work, identity, and community. Idaho's land, which transcends nearly 700 miles from its north at the Canadian border to its southern neighbor Utah, has significantly shaped the culture and character of its people. Home to the second largest Basque population in North America, Boise reminds us of the influence and culture that various groups bring to our communities.
"I, Too, Am America" means that we must consider all parts of the country and all people within the country. It is a demand echoing throughout history and reverberating within Idaho's history.  From women's suffrage in 1896 to the Native American struggle for civil and human rights to the preservation and interpretation of Japanese internment camps to the ever-evolving demographics, Idaho reflects the ongoing discussion of American identity. Join us in Boise as we gather and explore our collective identity.
Dr. Noelle Trent
President and CEO, Museum of African American History, Boston and Nantucket
2023 Annual Conference Program Chair
What is the AASLH Annual Conference?
The AASLH Annual Conference is an in-person experience that engages and connects history professionals and volunteers and inspires them in their work. We encourage every attendee's full participation in the sessions, workshops, tours, and discussions. Each session type is categorized so that attendees can see the level of participation it involves. Before you propose a session, think carefully about how it will engage your audience.
We hope the Annual Conference becomes a transformative moment for all, a chance to go deep, to reenergize, to build professional relationships, and to focus on a sense of place and history in the host city. In formal and informal spaces, participants will work through challenging discussions and learn new practices. While there will be an emphasis on communal events to build shared experience, we will offer multiple opportunities for personalized learning, in tours, workshops, and sessions.
Click the image below to download the onsite program for this year's Annual Conference.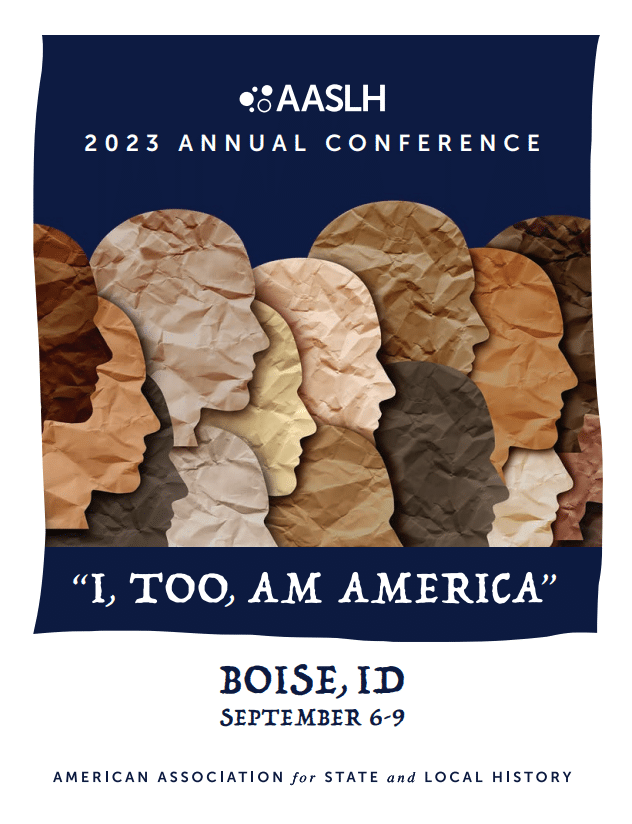 Updated August 17, 2023
Marketing Opportunities
Connect with public history practitioners at the 2023 AASLH Annual Conference in Boise, Idaho, on September 6-9. Advertise your organization, institution, services, or products to conference attendees and a total estimated reach of 25,000 history practitioners.
Why attend the Annual Conference?
History and museum professionals from all over the country attend the AASLH Annual Conference to learn new techniques, solve challenges together, and find new products or services to improve their practice of history. As an exhibitor or sponsor, you have a unique opportunity to meet prospective clients and network at dozens of sessions, tours, evening events, luncheons, and more.
Sponsor: Get maximum brand exposure as an Annual Conference Sponsor. Packages start at $500.
Exhibit: Reserve a booth in our two-day Exhibit Hall. Packages start at $825.
Advertise: Raise awareness of your organization or product with a full-color ad in our Preliminary Program and Onsite Guide. Prices start at $200.
For more information about these opportunities, and to reserve an ad, sponsorship, or exhibit booth, download our Marketing Kit.
Annual Conference Fellowships and Scholarships
The Cinnamon Catlin-Legutko Memorial Scholarship, Douglas Evelyn Diversity Fellowships, and Small Museums Scholarships are the three programs that AASLH offers to assist those who would like to attend the AASLH Annual Conference.
Cinnamon Catlin-Legutko Memorial Scholarship
Cinnamon Catlin-Legutko will be best remembered because she used her power to change lives, inspire movements, and challenge the status quo for the better. In memory of Cinnamon and her generational impact on museums, historic sites, and public history, AASLH has created a special scholarship in her name to advance her legacy of transformational change across the museum community. In 2023, the fund will support up to five $1,000 scholarships for the Annual Conference. Eligible applicants include: those working in small museums, as either full-time or part-time paid or volunteer employees and who are institutional or individual members of AASLH; and Indigenous persons and those employed as staff members with a tribal organization, program, or collection. Click here for guidance on what constitutes a small museum. The application deadline was June 30, 2023.
For 2023, the following individuals were chosen for the scholarship:
Bryanna Ellis, Museum Administrator & Program Coordinator, Bonner County Historical Society & Museum, Sandpoint, Idaho

James Joseph Flores, Tribal Liaison, Milwaukee Public Museum, Milwaukee, Wisconsin
William Lopez, Museum Educator, The Brinton Museum, Sheridan, Wyoming
Izabela Pieniadz, Executive Director, Ellwood House Association, DeKalb, Illinois
Bryanna Weaver, Exhibition Research Intern, Museum of the Cherokee Indian, Cherokee, North Carolina
Douglas Evelyn Diversity Fellowship
The Douglas Evelyn Diversity Fellowships are named in honor of AASLH's president from 1992-1994, and recognizes Evelyn's strong support of AASLH's professional development mission. A primary objective of the Douglas Evelyn Diversity Fellowships are to increase culturally diverse participation at the AASLH Annual Conference and in all of the Association's programs. The scholarships include the Annual Conference registration fee, a one-year individual membership in AASLH, and $700 toward travel and hotel expenses. Five fellowships are available. The application deadline was July 1, 2023.
For the 2023, six scholarship winners were selected:
Olivia Chaudhury, Ph.D. Candidate, Cornell University, Ithaca, New York
Laura Jones, Curator and Archivist, Grand County Historical Association, Steamboat Springs, Colorado
Jeff May, Chief Administrative Officer, San Antonio African American Community Archive & Museum, San Antonio, Texas
Donna Rae Pearson, Assistant Curator, Kansas Historical Society, Museum Division, Topeka, Kansas
Alyssa Vargas-Lopez, Museum Services Administrator, Pueblo City-County Library District, Pueblo, Colorado
Terri L. White, President and CEO, Charlotte Museum of History, Charlotte, North Carolina
Small Museums Scholarships
AASLH's Small Museums Committee is offering scholarships to any AASLH members who are full-time, part-time, paid, or volunteer employees of small museums. The $850 scholarship will cover the cost of registration. Any remaining funds can be used to offset travel and/or lodging expenses. To qualify, the applicant must work for a museum with a budget of $250,000 or less and either be an individual member of AASLH or work for an institutional member. The application deadline was June 23, 2023.
For 2023, four scholarship winners were selected:
Emily Bentley, Kanab City Museum, Kanab, Utah

Robert Becker, The Keizer Heritage Museum, Keizer, Oregon

Beth Anne S. Payne, The Dudley Farm Museum, Guliford, Connecticut

Faith Walker, The Great Bend Museum, Raveswood, West Virginia
Conference Center Location
Boise Centre
850 W. Front Street
Boise, ID 83702
Hotel Information
The following hotels are near the Boise Centre. In addition to these hotels, it is recommended that you check properties near the Boise Airport (4 miles from the Boise Centre). Transportation will only be provided to/from the hotels listed below. There is regular city bus service from the airport area and taxis and ride share services are available.
Courtyard Boise Downtown
222 South Boise Ave., Boise, ID 83702 (0.8 miles from Boise Centre)
(208) 331-2700
Amenities:
Check in: 3 p.m.
Check out: 12 noon
Complimentary basic wi-fi (premium wi-fi for a fee)
Complimentary airport shuttle
Restaurant
Mini refrigerator
Complimentary on-site parking
The Grove
981 W Grove St., Boise, ID 83702
(208) 333-8000
The Bar at The Grove is designated as the "official watering hole" for the 2023 AASLH Conference.
Amenities:

Check in: 4 p.m.
Check out: 12 noon
Complimentary basic wi-fi (premium wi-fi for a fee)
Complimentary airport shuttle
Room service
Mini refrigerator
Access to the Grove Fitness Club and Spa and indoor pool
Onsite and valet parking with a fee
Hampton Inn & Suites Boise Downtown
495 S. Capitol Blvd., Boise, ID 83702
(208) 331-1900
Amenities:
Check in: 3 p.m.
Check out: 12 noon
Complimentary hot breakfast
Complimentary wi-fi
Mini refrigerator
Business center
Indoor pool
Fitness center
Onsite parking with a fee
Hilton Garden Inn Boise Downtown
348 S. 13th. Street, Boise, Idaho 83702 (0.4 miles from Boise Centre)
(208) 342-7000
Amenities:
Check in: 3 p.m.
Check out: 12 noon
Complimentary basic wi-fi (premium wi-fi for a fee)
Restaurant and Room Service
On-site parking – $15 per night
Hotel 43
981 W Grove St., Boise, ID 83702
(208) 342-4622
Amenities: 
Check in: 4 p.m.
Check out: 12 noon
Complimentary high-speed internet
Complimentary airport shuttle
Mini refrigerator
Access to the Grove Fitness Club and Spa
Valet Parking
Complimentary guest tickets to Boise Art Museum
Complimentary bike rentals
Metro Café and room service from Chandlers (5:30 – 10:30 p.m.)
Policies
Cancellation / Refunds
All cancellations must be in writing. Cancellations postmarked on or before August 19, 2023 will be subject to a $55 processing charge on the cancelled registration fee and a 50% cancellation fee on all special events, including workshops. No refunds for registration, workshops, and special events will be made after August 19, 2023. AASLH is not responsible for cancellations that were mailed or emailed but never received. If you do not receive confirmation from AASLH within three weeks, please contact the AASLH office at 615-320-3203 or membership@aaslh.org.
Waiver and Photo Release
By submitting a registration for the AASLH Annual Conference, you agree to the following: 
AASLH is committed to 

provide

 a safe, productive, and welcoming environment for all meeting participants and AASLH staff. All participants, including, but not limited to, attendees, speakers, volunteers, exhibitors, AASLH staff, service providers, and others are expected to abide by the Meeting Safety & Responsibility Policy. You can read the full policy below.

 

You authorize AASLH to use, reproduce, and/or publish photographs and/or video that may pertain to you — including you

r

 image, likeness, and/or voice without compensation. AASLH may use this material in various publications, recruitment materials, or for other related endeavors in print and online, including the AASLH website and email correspondence.

 
Meeting Safety & Responsibility Policy
AASLH is committed to providing a safe, productive, and welcoming environment for all meeting participants and AASLH staff. All participants, including, but not limited to, attendees, speakers, volunteers, exhibitors, AASLH staff, service providers, and others are expected to abide by this Meeting Safety & Responsibility Policy. This Policy applies to all AASLH meeting-related events, including those sponsored by organizations other than AASLH but held in conjunction with AASLH events, in public or private facilities. 
Unacceptable Behavior
AASLH has zero-tolerance for any form of discrimination or harassment in any form, including but not limited to sexual harassment by participants or our staff at our meetings. This policy also covers any virtual meetings hosted by the association. 
Examples of unacceptable behavior include, but are not limited to, verbal comments related to gender, sexual orientation, disability, physical appearance, body size, race, religion, national origin, inappropriate use of nudity and/or sexual images in public spaces or in presentations, or threatening, cyber-bullying, or stalking any attendee, speaker, volunteer, exhibitor, AASLH staff member, service provider, or other meeting guests. 
Physical or verbal abuse of any attendee, speaker, volunteer, exhibitor, AASLH staff member, service provider, or other meeting guest or disruption of presentations at sessions, in the exhibit hall, or at other events organized by AASLH  will not be tolerated. 
Attendees should respect all participants' personal choice on the mask issue and any harassment of any kind will not be tolerated.
If you experience harassment or hear of any incidents of unacceptable behavior, AASLH asks that you inform either John Dichtl, CEO, dichtl@aaslh.org or 615-320-3203 or Bethany Hawkins, Chief of Operations, hawkins@aaslh.org or 615-320-3203 so that we can take the appropriate action. You can also or email council@aaslh.org. 
AASLH reserves the right to take any action deemed necessary and appropriate, including immediate removal from the meeting without warning or refund, in response to any incident of unacceptable behavior, and AASLH reserves the right to prohibit attendance at any future meeting. 
Based on guidelines from the American Society of Society Executives, https://annual.asaecenter.org/meetingsafety.cfm. 
Frequently Asked Questions
Below is a collection of questions asked often as the Annual Conference approaches. Registration for the 2023 Annual Conference will open in summer of 2023.
How much should I budget for the Annual Conference? The following ranges were provided to help plan for the 2022 Annual Conference in Buffalo. These fees will be updated at a later date for Boise. Your final fees will depend on your travel expenses, how many ticketed events you attend, and how many days you attend.
Registration fees: Vary. Full conference registration member rates begin at $320
Event fees: $25 and up
Hotel fees: Between $139-$179
Travel fees: vary depending on your location
How do I register? There are two ways to register:
Online
Fax or mail the registration form
I am a staff member of an Institutional Member, what do I need? You need your Institution's membership number to receive membership rates.
I need to register someone other than myself for the Annual Conference. Can I use my username and password to register them? No. Each attendee will need to register themselves with a unique username and password.
I forgot my username and password to register. Visit aaslh.org, click Membership Center in the upper right corner, and click the link to reset your password.
I need a receipt. Send an email to info@aaslh.org to request a receipt.
Refunds on evening events and tours. Email your cancellation to info@aaslh.org with your name, the event, and reason for cancellation. A refund may be issued if applicable. Please refer to the cancellation policy in the program guide.
Can I purchase event tickets or any other paid events onsite? Yes, if tickets are still available you can purchase onsite for any event or tour. It's always best to purchase your ticket(s) in advance.
I am a one-day speaker and I plan to attend only on the day that I am speaking. Do I need to fill out a registration form and pay registration fees? Yes, everyone who attends the conference needs to fill out a registration form and pay for their registration.
Who is considered a "guest" on the registration form? Anyone who accompanies you to the Annual Conference that is not going to attend any sessions or workshops. A "guest" may attend the tours and evening events and will need a name badge for that purpose. Please be sure that you list the name of your guest(s) in the "Guest's name" field on your registration form.
Will I be included in the Attendee directory that is sent out to all attendees prior to the Annual Conference? Yes, all attendees will be included in this directory as long as your registration is received three weeks before the Annual Conference. However, if you check the box "Please exclude me from the attendee directory " on the registration form, you will not be included in the directory.
I have a "complimentary" registration because I am an exhibitor, a host site, or a volunteer. Can I register on your website? Exhibitors may register online with the promo code provided to them. Host sites and volunteers need to mail or fax a completed registration form to us.
We received coupon(s) from AASLH. Can I register on your website and use them? No, you will need to mail or fax a completed registration form to us and include a copy of the coupon(s). If you are provided with a promo code, you may use that to register online.
Upcoming Annual Conferences
Save the date to join us at our 2024 conference, September 11-14, 2024 in Mobile, Alabama.