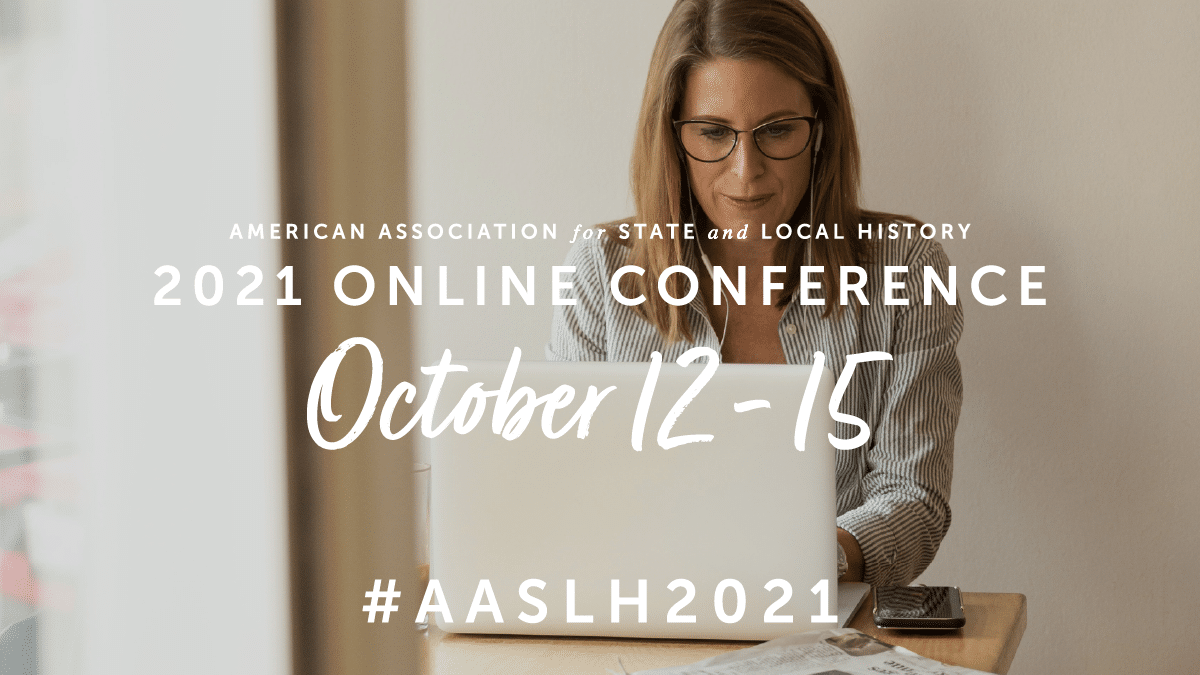 By Alex Collins, Professional Development Manager, AASLH
It's almost that time! Time to gather virtually for the 2021 AASLH Online Conference. Though we were excited to see many of you in Little Rock a couple of weeks ago, we are so happy to join you in another space to connect and continue conversations around the theme, Doing History/Doing Justice.
Before the conference next week, we wanted to provide a few tips to help you make the most of your experience.
Treat the online conference like you would an onsite conference.
Some of you will try to cram work in between sessions, but we encourage you not to! Be mindful of staying engaged with the content. Set an out of office message letting people know you are attending and block it out in your calendar.
Explore the conference portal before October 12.
Get comfortable with the platform and make sure you know where to find all the sessions you wish to attend. There is a helpful "Get Assistance" tab in the portal we recommend checking out.
Review the Program Guide.
Look at the schedule this week and make note of what you would like to attend live or watch later. All General and Concurrent sessions will be recorded, as well as Brown Bag Lunches and Discussion Groups. The recordings will be made available in the conference portal after the conference ends and all General and Concurrent sessions will be available later in the AASLH Resource Center.
Don't forget about the Pre-Recorded Sessions!
This year's conference includes 12 pre-recorded sessions that are already available to view in the conference portal. There will be three live Discussion Groups where you can meet the pre-recorded session speakers, ask questions, or engage them and other attendees in conversation about their session topic. After watching the recordings, use this form if you would like to submit a question to panelists prior to the Discussion Group.
Make sure you have the most updated version of Zoom.
Don't get stuck needing to update Zoom right as you join a session. Check out this article to make sure you have the latest version. You can also test your access via Zoom.us/test.
Join the Discussion Groups, Brown Bag Lunches, and Happy Hours.
The General and Concurrent sessions aren't the only way to experience the conference! Drop in to network with colleagues and discuss what is going on in your particular part of the field.
Share your thoughts.
Share about your conference experience, what you are learning, or ideas you want to implement at your organization. If you are in the Twittersphere, tweet using #AASLH2021, you can also find us on Facebook and LinkedIn. Share how you hope to apply what you are learning and tell us more about your organization. Remember to ask questions, too!
Double check the time zone.
All sessions times are in eastern, but you can change the time zone displayed in the conference portal. Just click the "Change" button at the top of the screen on the session pages.
Scale the content.
Remember to scale the information in the sessions for your organization. Every organization will have different budgets, staff sizes, or missions, but no organization is too small or too large to try something new.
Last, but certainly not least, take care of yourself.
Step away from the screen as often as you need and stay hydrated. We've tried to provide plenty of time between sessions so you can stretch, take a quick walk, or grab a snack. Also, wear something comfy!
Did you say you haven't registered yet? Well, what are you waiting for!? The deadline is this Thursday, October 7. Visit the Online Conference page to register. See you virtually next week!