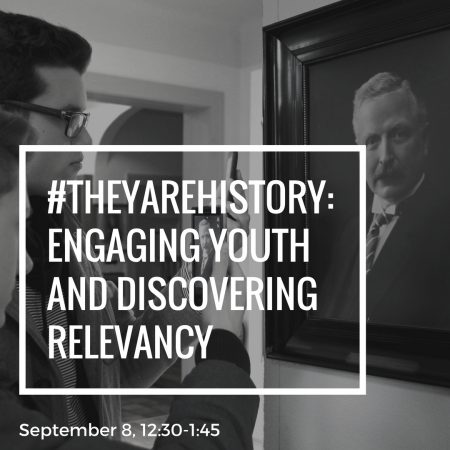 As we prepare for the 2017 Annual Meeting in Austin, the Educators and Interpreters Affinity Group Committee is trying an experiment. We're giving presenters who are chairing sessions with education and interpretation themes a chance to give readers a little more information about them – a teaser, if you will. We'll share two to three sessions each week. We hope this will be helpful to prospective conference attendees and presenters alike. Please share your thoughts and comments with us!
(If you haven't heard from us and you'd like to share a post on your workshop or session, drop a line to Sarah Jencks at sjencks@fords.org)
Session: #TheyAreHistory: Engaging Youth and Discovering Relevancy
Friday, September 8, 12:30-1:45pm
Chair: Ashleigh Oatts, Education Coordinator, T.R.R. Cobb House, Athens, GA
Millennials these days are blamed for everything- they can't buy houses because they eat too much avocado toast, they don't enjoy chain restaurants as much as the previous generations, and the list goes on (we can joke because we are millennials). However, millennials (and the generation that follows) aren't responsible for the death of history, and our session shows how innovative programs have made local history relevant for these generations.These programs engage their participants in the real work of history organizations, doing everything from giving grants to creating programs, to show that history organizations are vibrant, important parts of their communities. Each program also relies on collaborating and partnering with other organizations to be successful. Through these strategies, we have empowered new people to see that they truly are a part of history and their communities. Come learn from these programs' successes and struggles, and leave with ideas to take back to your own institution. If you're looking to engage a younger audience, this session is for you!
Session: Past/Present/Podcast: The Challenges of On-Air History
Friday, September 8, 8:30-9:45am
Chair: Jessica Dorman, Director of Publications and Student Education, The Historic New Orleans Collection, New Orleans, LA
When the call went out for field producers, hands shot up in the air. Script writers? More hands.We were gathered in a conference room at The Historic New Orleans Collection—NPR host Laine Kaplan-Levenson, a handful of THNOC educators, and two dozen high-school juniors,seniors, and history teachers. Laine had just finished describing the process of producing a history podcast—TriPod: New Orleans@300—and now she needed student volunteers to help report, write, edit, and produce an upcoming episode. The resulting podcast explored the 175-year history of St. Augustine Church, one of the country's oldest integrated congregations. It wasn't easy for the students, and it hasn't always been easy for us—the team of journalists, museum professionals, archivists, and academics who collaborate on TriPod. We all have different ideas about how to tell a good (riveting, relevant) history story—and what works well in a college classroom, a museum gallery, or a publication doesn't necessarily work well in a 10-minute podcast. We've learned a lot from the students and educators who've become regular TriPod listeners. We hope to learn from you, too—so please join us on September 8, bright and early, for "Past/Present/Podcast: The Challenges of On–Air History."
Check out other sessions and workshops listed in our Annual Meeting Program Guide!