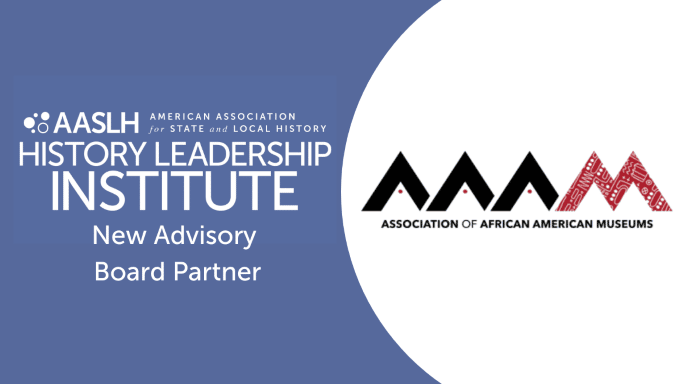 The American Association for State and Local History (AASLH) is excited to announce that the Association of African American Museums has become an Advisory Board Partner of AASLH's History Leadership Institute.
The History Leadership Institute provides mid- and advanced-career professionals at history organizations tools, ideas, and connections to enhance their ability to lead institutions and the field.
The Association of African American Museums (AAAM) supports African and African American focused museums nationally and internationally, as well as the professionals who protect, preserve, and interpret African and African American art, history and culture.
AASLH believes that inclusive history advances progress toward a more just society. As an Advisory Board Partner, AAAM and AASLH will work together to advance inclusive history throughout the history field.
"The partnership with the Association of African American Museums and the American Association of State and Local History is well overdue," said Vedet Coleman-Robinson, executive director of AAAM. "Being able to lock arms with one another through the History Leadership Institute is something that will benefit the field writ-large, and is very timely. It is our hope to continue to offer amazing opportunities that will allow the practitioners in our field to reach their full potential."
Two of AASLH's core values are to build networks and to be enthusiastic, supportive collaborators.
"Our History Leadership Institute has always focused on developing amazing new leaders," said John Dichtl, president and CEO of AASLH. "We are excited to be collaborating with AAAM to further expand the networks of historical societies, museums, and other historic sites from which this program will draw its participants and instructors."
Applications Open for the 2023 History Leadership Seminar
AASLH is now accepting applications for the 2023 History Leadership Institute's Seminar, which will be held May 30 – June 22, 2023.
Over four weeks, a cohort of about twenty associates dives deep into a broad range of current and future national issues facing the history and museum field. Through workshops, discussions, activities, and field studies facilitated by dozens of nationally-recognized experts working on the field's leading edge, associates tackle the most pressing challenges confronting history institutions and develop strategies for addressing them.
Learn more about the Seminar and to how to apply. Scholarships are available!