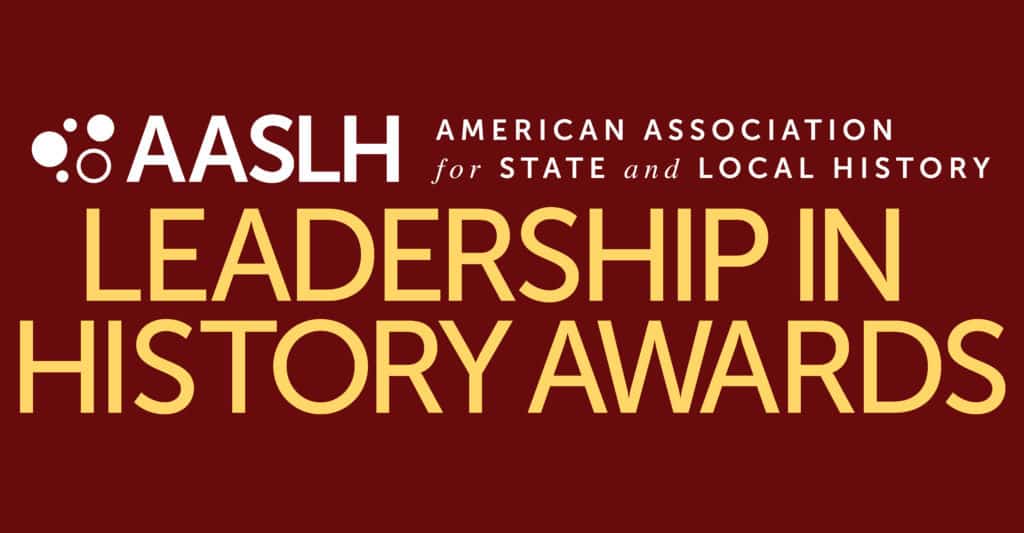 The American Association for State and Local History (AASLH) Leadership in History Awards recognize excellence and innovative achievements in projects, programs, exhibits, publications, and people in state and local history.
AASLH is now accepting nominations for the 2023 Leadership in History Awards!
Need Inspiration?
See previous award winners.
Everyone Is Welcome to Apply!
We welcome nominations from all, including organizations of any size or budget, including all-volunteer organizations and ad hoc groups. We've given awards to community groups, arts collectives, K-12 classes, neighborhood associations, religious groups, libraries, and others doing great history work wherever they are. You do not have to be a museum or history organization to be eligible.
You do not need to be an AASLH member to submit a nomination! Of course, we'd love to have you as a member if you're interested. Learn more about membership.
Most Awards are Non-Competitive!
Publications is the only competitive category. Other award nominations are evaluated on their own merits, not against other nominations. Small groups with modest budgets have just as good a chance of winning as larger organizations.
Deadlines
Award of Excellence nominations are due March 1, 2023. Contact your state or regional representatives now and review the awards guidelines so you can start preparing your application.
Save the Date: Award Nomination Webinar January 11, 2023
Join us for a free webinar to learn more about our awards program and how to put together a winning nomination.