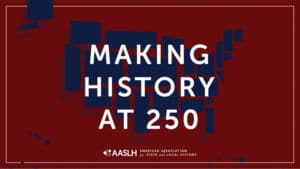 The Semiquincentennial, or 250th anniversary, of the founding of the United States is now just four years away!
This anniversary is an opportunity for all history organizations to highlight a fuller, more honest vision of our shared history, one that can be used across our diverse society to provide a stronger basis for civic participation.
The history community still has time to plan and execute big, creative, ambitious projects for this anniversary—but just barely. In order to fully leverage the opportunities the 250th presents, we have to begin now to put the pieces together.
Annual Update on the Semiquincentennial
To help you think about those possibilities and advance your planning, the American Association for State and Local History (AASLH) has put together our fifth Annual Update on the status of preparations for the 250th.
Field Guide for the Semiquincentennial
AASLH has been leading the field since 2017 in preparing for the 250th, and we've put together many resources to help with Semiquincentennial planning.
Most notably, last summer AASLH published Making History at 250: The Field Guide for the Semiquincentennial. The Field Guide contains a set of five historical themes that can guide programming.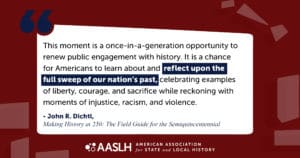 Other Resources
In addition to the Field Guide, you can access recorded webinars, blog posts, and previous reports related to planning for the 250th in a special section of the AASLH website.
In the coming years, AASLH will continue to listen to our field, convene important conversations about the needs and roles of history institutions, and provide additional resources to strengthen the history community in the lead-up to 2026.
State Commissions
AASLH has also been supporting and monitoring the creation of state commissions and other entities that will lead local preparations and manage state relationships with national planning partners.
To date, 29 states have established a commission, with legislation pending in three others. We encourage you to connect with your state commission if one has been established or to contact your lawmakers if a commission is pending or not yet created.
You can learn more about these commissions in this year's Annual Update or on the 250th planning page on our website.
Whether you're well into planning or have yet to get started, we hope the Annual Update and other resources will help history practitioners everywhere get on the same page, and then get to work. Our communities and our nation depend on it.